Bringing back yesterday . . .
Back in "the day," military unit armorers received a M14 small parts repair kit with the following instructions:
RIFLE, 7.62MM, M14 UNIT LEVEL REPAIR PART KIT.
This kit is to be issued to Unit Armorers who support M14 Rifles and will be retained in the Unit Armorer Tool Kit. The kit supply's the Armorer with the basic parts needed to support operations in the field. In addition to wear & tear these parts are subject to damage / loss in the course of service or repair. To maintain the Integrity of the kit, the Armorer must order replacement parts (one for one) as he uses them.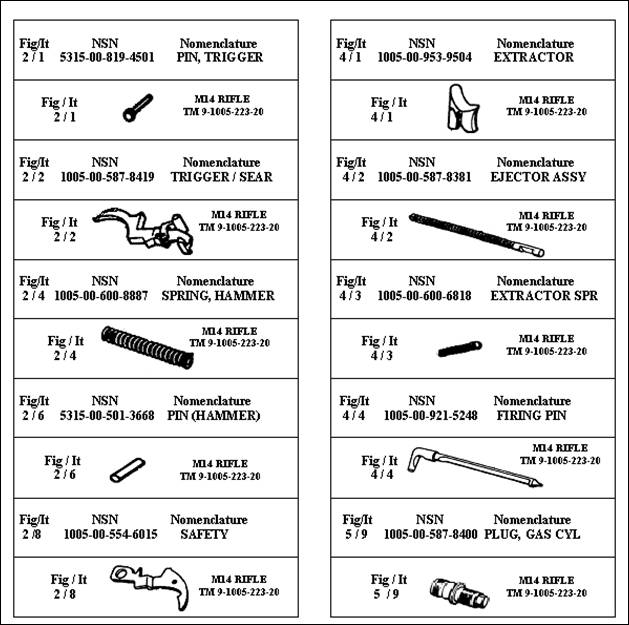 The parts were individually packed in plastic bags wrapped in a dedicated parts roll.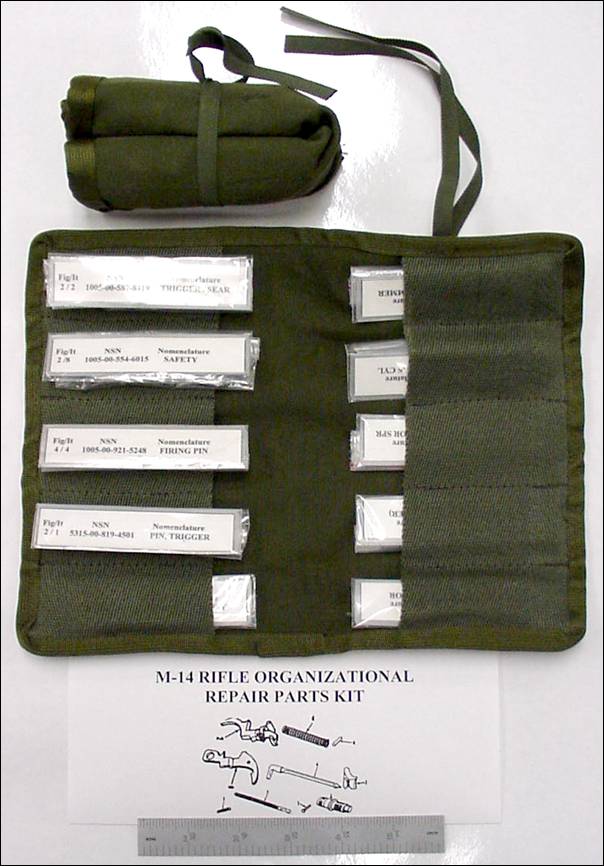 Original issue US M14 ULRPK Parts Roll shown above for illustrative purposes.
Now you can own a recreation of the ULRPK packed in a M13 Spare Parts Roll. Each kit contains:
Trigger Pin, USGI
Trigger, Single-Sear, USGI
Hammer Spring, USGI, Unissued
Hammer Pin, USGI
Safety, T. I., Unissued (Tong Industries forged production for the Korean and U.S. Military. While these are Korean-made, the U.S. Military continues to buys the T. I. safety as a replacement part for our soliders.)
Extractor, USGI
Ejector Spring Assembly, USGI
Extractor Spring Assembly, USGI
Chrome Firing Pin, USA-made current production
Gas Plug, USGI
M13 Tool Roll, USGI, Unissued
Parts illustration page (as shown above)
10 2"x4" Zip-lock bags for part storage
The ULRPK is specially priced at $155 ($171 value) Limited Availability
Enhance the ULRPK with these useful parts for only $55 ($67 value)
Safety Spring, USGI, Unissued
Spindle Valve Assembly, USGI
Gas Piston, New Polished Stainless Steel, USA-made
.308 Chamber Brush, USGI
M14 Roll Pin Set
Unless otherwise noted, parts are in excellent condition, reparkerized with manganese phosphate. The gas plug is refinished with black oxide.